Flux Drive Smart Couplings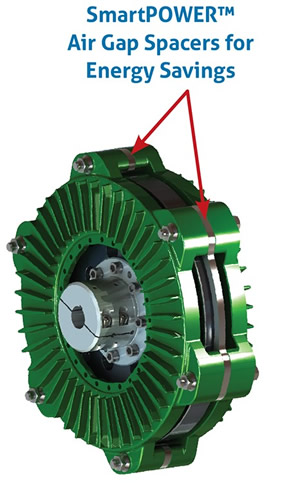 A Protective Coupling with Soft-Start & Energy Saving Capabilities Utilizing Flux Drive SmartPOWER™ Adjustment (available in a belt drive model also)
Flux Drive's patented permanent-magnet induction-rotor technology has been applied to an affordable and easy-to-install 'soft-start' coupling for inline application — the SmartCOUPLING™ (FSC-IL). Finally, a coupling that protects your equipment AND delivers "GREEN" energy savings performance!
Designed as a drop-in replacement for grid, gear, elastomeric, and other flexible couplings, the FSC transfers torque across an air gap by means of magnetic induction — completely isolating a motor from the driven load. Excessive vibration and torsional forces are nearly eliminated, reducing expensive downtime from severe misalignment, failed bearings, seals, broken shafts or damaged couplings. Locked rotor current at start-up is also limited, potentially reducing costly utility demand charges (kW) on electric motor driven applications including constant torque loads like conveyors, compressors, and positive displacement pumps and blowers.
For applications such as centrifugal pumps, fans and blowers the FSC is also the only coupling that provides significant energy savings (kWh) through load speed/flow reduction. Simple SmartPOWER™ adjustment spacers decrease the coupling effect of the permanent magnets, giving operators the ability to extend soft-start duration and/or reduce the fixed operating speed by up to 50%. Since the FSC follows the Laws of Affinity on centrifugal system loads, trimming the load speed by just 10% could result in over 20% energy (kWh) savings in pump and blower applications!
Benefits of Flux Drive Smart Couplings
Air Gap Tolerates Misalignment

The SmartCOUPLING™ allows axial, parallel and angular misalignment up to .100" (or more with air gap spacers installed) with no loss of power!)
Ability to reduce load speed & save energy with SmartPOWER™ adjustment
Zero vibration across air gap extends the life of seals, bearings & other components
Soft-start and over-torque protection
Runs with shaft misalignment and allows for thermal shaft growth
No replacement components to purchase
Reduced noise and cavitation/turbulence
Lower motor & load operating temperatures
Replaces need for impeller trimming and compensates for long-term impeller wear
ABS (American Bureau of Shipping) Approval Pending
Torque transfer that Never Wears Out

Contact Tri-Tec Manufacturing to Learn More About Flux Drive Smart Couplings