Quality/Mil-Spec/ITAR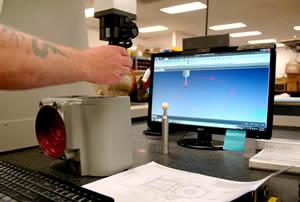 Quality contact:  
Director of Quality, Compliance & Document Control:
Jennifer Eazor 
Phone:  425-207-3548 direct
Email:
jeazor@tritecmfg.com
Tri-Tec Quality Policy:
Our commitment to our customers:
Provide a product of the highest quality
Best price possible
Timely delivery
We are committed to supporting qualified personnel in an atmosphere conducive to continuous improvement  
What does Quality mean to Tri-Tec Manufacturing?  
Tri-Tec Manufacturing is devoted to a high level of quality in a service or product, especially by means of attention to every stage of the process of production, acceptance and delivery.  All of our Military products are manufactured to strict DOD specifications.   
We have an ISO 9001:2015 Registration – Registered with NQA - Since 2012.  
See ISO registration
In addition to the way we manage our own quality products, we offer the following services:
1st part and 1st article inspection
CMM measuring
Optical Comparator inspection  - Three axis - Threads, Radius and Bore
Timely Inspection report generation
Process and Part Continuous improvement  program development
Process validation through audits and open discussion
To learn more about Tri-Tec Manufacturing and the quality we offer, please
contact us
or
request a quote
today!